• Africa • African apparel • African Clothing • Captain Africa • Kaptain Africa • Photoshoot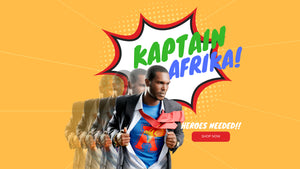 In the "Kaptain Afrika" campaign video, there was an African photographer capturing an African model bring to life the idea of an African designer. The key here is teamwork. Africa will progress, but it will take more than one person's, faith, dreams, and efforts. Face2Face Africa is just an example of what we can do when we work together for the good of our motherland.
---
• Africa • African apparel • Black Panther • capsule • fit for a king • jamhuri wear • movie • super hero
"Who needs a hero? 
You need a hero, look in the mirror, there go, Your HERO!"
Who on the front lines at ground zero every day? (YOU)
To celebrate the release of this amazing movie Black Panther we created a special Limited edition colorway capsule.
FIT FOR A KING/QUEEN.
Wakanda exclusive capsule colorway drop now available.